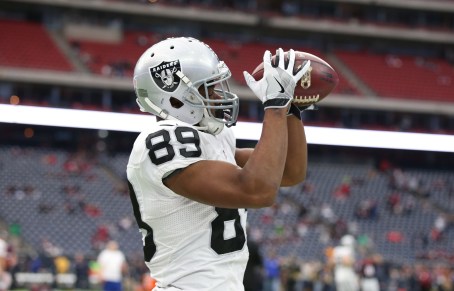 After NFL two seasons strong play, Oakland Raiders wide receiver Amari Cooper is getting no love in early fantasy football drafts. It is time to change that!
Cooper's 155 career receptions ranks second to only Larry Fitzgerald for players younger than 23 years old. Just three receivers ever have more yards than Cooper's 2,223 (Randy Moss, Mike Evans and Josh Gordon) before turning 23. Cooper is the third player in league history with at least 70 catches and more than 1,000 yards in each of his first two NFL campaigns.
What more does a dude need to do in order to make fantasy owners pay attention? Catch touchdowns, apparently. Cooper has "just" 11 in two years. The concern also stems from his regression each of his first two seasons as they wore on. We can give him a pass for the proverbial rookie wall in 2015, while last year's setback can be blamed on a nagging injury. He struggled to get open down the stretch and was thrown to less as a result.
On the plus side, he scored once every 29 catches in the first half of the year and improved to a TD per 10 snares in the final eight games. More important, Cooper turns 23 in June.
Twenty-three years old. Let that sink in. He has accomplished everything highlighted above and enters his third offseason (in a system that will barely change despite a new coordinator) before the ripe old age of 23. Four incoming NFL rookie receivers are older than Cooper is today.
Three offseasons of learning the ropes with a great quarterback in Derek Carr, along with the tutelage of veteran receiver Michael Crabtree, puts Cooper in a prime situation to break out in a huge way. Tangentially, Carr is poised for a monster year, too, and the Raiders have one of football's best offensive lines. Oakland also added Marshawn Lynch to stabilize the running game.
Lessons learned from early drafts
The size, skill and desire is all there on Cooper's part. Now he is focused on the little things, as he illustrated recently to the media:
"It's easy to forget the small things like high-pointing the ball, looking the ball all the way through and not trying to run before you catch the ball," Cooper said. "Overall, just working hard in the offseason so that you can come back and you can be dominant."
Cooper also spent time learning from retired NFL great Calvin Johnson. The Alabama product is drawing praise from his head coach, Jack Del Rio, too:
"I think he has a much greater understanding," Del Rio said. "I thought last year was a step forward. I know he wants to continue to push. It's great when you have a young, talented player that's really eager to be special, wants to make his mark in this league. The way he's working at it right now is outstanding."
Fantasy football spin
In a recent experts poll, I was politely critiqued for ranking Cooper as my fifth receiver. He will need to score more touchdowns this year than in his first two combined to reach that lofty placement, which is fully within reach.
The best part is Cooper's floor is so much higher than other potential breakouts. His formative years have produced borderline WR2 stats. Therefore, putting my money were my fingers are, here is my bold prediction range for Cooper: 90-100 receptions, 1,350-1,450 yards, 10-12 touchdowns.
Lofty, for sure, as mentioned, but not without warrant. Cooper's current ADP, according to FantasyPros, is 28th overall (standard) and 19th in PPR, as the 10th receiver in both formats. The willingness to take calculated risks to get ahead of the breakout curve is a major step in placing a fantasy trophy on your mantle.