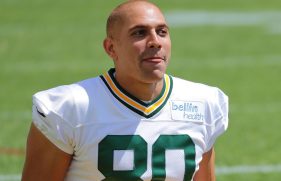 The tight end position is rather thin in fantasy football this year, so it is no wonder familiar faces are atop the average draft placement. Veteran tight end Jimmy Graham joined the Green Bay Packers in free agency, uniting him with Aaron Rodgers in an offense now without star receiver Jordy Nelson.
Understandably, Graham is a popular choice in his new home. The prospect of Rodgers slinging it to him has some fantasy owners excited again about the once-dominant tight end's outlook.
In 2011, a devastating knee injury could have derailed the standout's career, yet he managed to play every game the following year, posting a career-high 14.2 yards-per-reception average. Last season, Graham saw his average plummet to 9.1 yards, which was the lowest of his pro tenure. Seattle's offensive woes contributed, though it is unfair to dismiss the idea of age catching up with Graham. He turns 32 this November. His game rebounded in the red zone, finishing with 10 scores, or two more than the last two seasons combined.
Green Bay returns to Joe Philbin as the offensive coordinator. The tight end position wasn't extensively utilized in his earlier stay with the Packers, although none of those players were of Graham's pedigree. From 2007-11, tight ends in Green Bay were targeted 95, 79, 136, 71 and 104 times, respectively. Jermichael Finley's 2011 season was the highlight, going for 55 catches on 92 looks, 767 yards and eight scores.
Graham was the target of 95 passes in 2016 and one more a year ago — both way down from his role with the Saints from 2011-14, when he averaged 138 looks a year. Those days are long gone, and topping 100 looks should be enough to get gamers excited.
Forgetting last season, the Packers had targeted Nelson about 150 times a year in 2015 and '16. Davante Adams enters the No. 1 role, Randall Cobb reprises his slot/checkdown duties, and a handful of unheralded names will duke it out for the leftovers. Graham should be the No. 2 or 3 read on almost any given play. In the red zone, he offers excellent size for jump-ball situations.
Green Bay also added veteran tight end Marcedes Lewis. He's a much better blocker than Graham but is capable of utilizing his size in the red zone, too, which could cut into Graham's looks at times.
Fantasy football outlook
The clearest way Graham will make a difference in fantasy is by catching touchdown passes. Unfortunately, forecasting touchdowns tends to be the the least exact science in fantasy prognostication. Too many factors come into play from a game-flow perspective.
Even if age continues to catch up to him, Graham's ability around the stripe helps offset any overall losses. A down year would look something like 50-450-5 over 16 games. A healthy projection puts Graham's range around 60-70 receptions, 800-900 yards and 8-10 touchdowns, which would have been top-three numbers in both scoring formats a year ago.
Graham is drafted, on average, as the fourth tight end off of the board, tending to go in the early fifth round. The placement is fair considering the players taken around him and the precipitous drop-off after Evan Engram as the sixth tight end.